Dr. Clifton Perry, Senior Pastor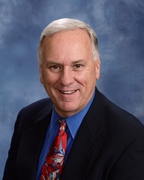 Clift is the Senior Pastor at First Baptist Church -Helotes. He holds degrees from Southern Illinois University, Southwestern Theological Baptist Seminary, Boston University, and Air University.
He loves Jesus, family, flying, classic cars, and Tex-Mex food. He and his wife Brenda have four children and three grandchildren. Together they experienced the world during 13 military assignments, and of all the places they lived Helotes ranks number one!
Pierce Eaton, Associate Pastor
Pierce is the Associate Pastor at First Baptist Church - Helotes. He primarily oversees the outreach, young adult, and youth ministries. Pierce holds degrees from Texas State University and Liberty University School of Divinity. Pierce grew up in Athens, TX, but he has lived in the San Antonio area since 2008. He enjoys watching sports, hiking, eating good food, singing, and playing the piano. Pierce has been married to his wife, Karen, since 2015.
Daniel Brown, Administrative Pastor
Dan is the Administrative Pastor at First Baptist Church - Helotes. He has been serving churches in various positions since 1982. He has degrees from Hannibal Lagrange University and The Southern Baptist Theological Seminary.
Dan committed his life to Christ at the age of 13 and accepted God's call to serve when he was 19. He has been married for over 30 years to his wife Cynthia, and together they have raised two boys. Together they have lived in Missouri, Kentucky, Eastern Canada, and since 2002, they live in Texas. When he has time, he likes to ride his bicycle.
Mike Garcia, Music Minister
Mike is the Music Minister at First Baptist Church of Helotes. He has been in church ministry since 1980. His music ministry began at Theo Ave Baptist Church in San Antonio, Texas where he attended and served for 20 years. It was on a Friday night when he was in the fourth grade that he got his chance to play drums, and that's where he knew what his calling was. Mike has served in the music ministry in whatever church God has placed him in for the past 35 years. Mike joins us after serving the last 5 years at First Baptist Castroville. Mike is married to Rosantina, and they have 3 kids and 1 grandson .